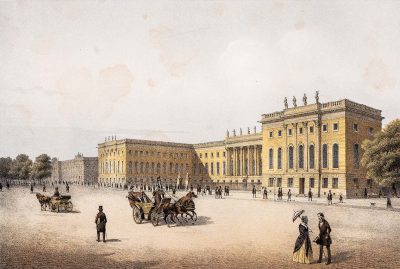 Architectures of science: the Universities of Berlin in European perspective
The online exhibit "Architectures of Science. The Universities of Berlin in European Perspective" has now been launched at
https://architekturen-der-wissenschaft.de/english.html
Arising from an exhibition in the European Cultural Heritage Year 2018, which was on display in all three Berlin universities, the online exhibit invites visitors to reflect on the interrelationships between science, architecture and the city.
When it comes to the question of the place of science in the city, the exhibition is guided by the wonderful idea of the Berlin science and university historian Rüdiger vom Bruch, who coined the term "Wissenschaft im Gehäuse" (science in a housing, enclosure or case). Beyond the institutional framework, this also refers to the concrete places, the lecture halls and laboratories or libraries that make knowledge production possible. This field of meaning is transferred to the question of what it means: to build for science. The architectural form, which is intended to provide a housing for the natural sciences and life sciences as well as the humanities and which positions the university in the city, connects the differentiating sciences with the metropolis.
Berlin's architecture of science unites representativeness and functionality in an exemplary manner; it tells of self-confidence and power, of hubris, destruction and new beginnings, and it shows how a rich tradition is simultaneously preserved and new things are created.
The online exhibition is part of the project Science in the City: